Railing Contractor in Manhattan Beach, CA
Our railing contractors serve Manhattan Beach with expertise, craftsmanship and an emphasis on customer service
Many who live and work in Manhattan Beach love the view their property has of the ocean and our sandy beaches. Your railing doesn't have to get in the way of that view. We offer cable railings systems with thin but very sturdy steel cables, which are easy to ignore when you're looking at the great unobstructed view beyond them. Steel railings are the pinnacle of rail systems and offer any property more value. Discover more about cable rails and why you should choose us to install one for you below.
Where Do Cable Railings Work?
Cable railings offer an ideal mix of characteristics that makes them our first choice for every single application. They offer enough strength for commercial properties where entire crowds might be leaning on them. And they offer enough charm to look great next to elegant farmhouse fencing. They don't require maintenance, other than being cleaned for dust with a cloth. This low maintenance makes them ideal for railings in homes with busy families.
You can also place a stainless steel cable railing inside or outside. Outside, our marine-grade cables stand up to the elements without issue, never sagging, warping or buckling. When installed inside, cable railings can be made with all kinds of high-quality materials that will match the style of your home, including woods and metals. From the porch to the stairway, a metal railing provides a thinner profile and resistance to corrosion. Or, you can choose wood for your deck railing system that exactly matches the wood of your decking. Alternatively, paint your railing white to match your modern stairs. We can help with exceptional railing designs.
We can install cable railing systems such as:
Stair railings
Deck railings
Balcony railings
Hand railings
Safety railings
Rooftop railings
Observation point railings
And more
Your Railing Style Options
We work with local suppliers, finding the best material options and fasteners available for our cable railing systems. We build not just to the building code, but beyond it, offering the homeowner more quality than just code compliance. Our systems offer more stability and beauty than an aluminum railing or a glass railing. Plus, our designers have experience combining steel cables with other materials in unique finishes to create railing systems that will match any style on the inside or the outside of your property. Some of the stylistic options you have include: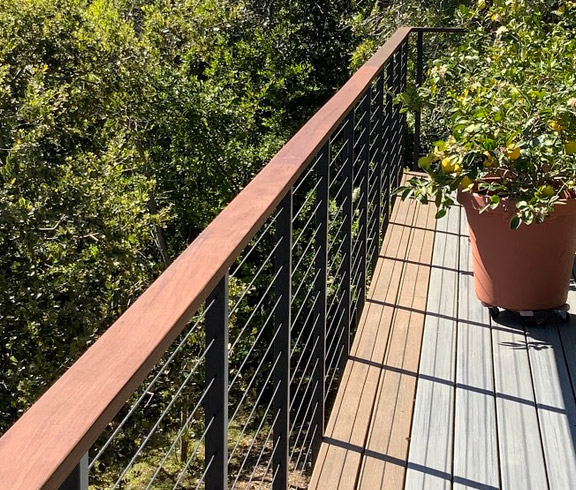 Modern: Thin metal posts painted in your choice of neutral color creates a crisp modern look that works with any modern space. The cable rails are naturally modern-looking and sleek.
Industrial: Combining materials is the hallmark of industrial spaces. Combine metal posts with a light wooden handrail to pull of the welded, machine-made look.
Tropical: If you have a lush landscape, you can use a deck railing made of dark tropical lumber to compliment it. Choose a sculpted baluster and stain it for more character.
Coastal: Coastal styles call for washed-out wood that looks like it was reclaimed from the beach. We can add (perfectly sturdy) wood in washed-out greys to create the look, and contrast it with steel brackets.
Farmhouse: Need to add a wood railing on the stair next to your farmhouse kitchen? We can use white wood and even make the railing look like a picket fence.
Not seeing the style that you want? Or want more railing ideas? Not to worry, our team will custom design a rail system that will fit in with and enhance the style of your space. Take a look through our gallery to see what we're capable of or reach out to us today to discuss how we can achieve the style you're looking for.
Work with Us Today
The cable railing systems we offer are the very best, both from a functional point of view and an aesthetic point of view. Design your railing with experts who care about details from quality swaging that makes your hand railing look like it belongs in a brochure to flush railing posts that attach to your roof's fascia, giving you more room. Choose us as your railing contractor in Manhattan Beach and get started on an amazing railing project today.
Service Throughout the Greater LA Area